I asked Mark Popovic, retired professional hockey player and founder of Ignite Hockey how he feels about gratitude.
"I'm thankful I found it!" Mark said immediately. Gratitude became an integral part of his life-skill toolkit at some point in his 20s. There was no one clear moment of discovery. Gratitude surfaced as a strategy while navigating challenges of anxiety, depression and injury during his professional hockey journey.
"Gratitude allows me to process. And simply to FEEL," Mark shared as he reflected on activities and adventures with his family: being outside surrounded by nature's beauty where he feels such presence and awe and deep gratitude – opening up his heart and emotions. Or his morning practice of having coffee in the hot tub and taking a pause to appreciate his incredible Colorado mountain views and all that is good. Yes, gratitude feels happy!
But Mark also sees gratitude as a way to look at a problem or situation. One of my favorite takeaways from our conversation was that Mark has a clear stance that you shouldn't get to be selective with your gratitude. "You don't get to pick just the good to look at. We need to look at everything with this lens of gratitude. Everything is an opportunity to learn and grow."
If we consider that all behavior begins with a prompt or a trigger, it appears anything causing feeling or emotion is Mark's prompt to initiate gratitude, which is fantastic.
But he also intentionally cultivates a gratitude practice to share what I like to call the gift of gratitude.
I love that he sets reminders in his calendar to reach out to friends, clients and others just to tell them hello and see how they're doing and express his gratitude.
I love that he makes sure to know each and every name of the kids who participate in his elite hockey training programs.

I love that he takes time to regularly thank his staff and he reminds them to show up fully for the kids – to learn their names, and to help them each feel valued and supported in their hockey development.
Gifting & Growing Gratitude
As far as how to continue to impact others with the gift of gratitude?
My children have had the privilege of working with him since 2016 and Mark does some pretty awesome things both on and off the ice in his hockey programs. A couple of fun examples of intentionally cultivating gratitude during his mental prep/leadership sessions include:
Having the athletes stand up and simply receive as everybody calls out and inundates them with compliments and appreciation.
Having athletes take a moment to text and thank parents/friends/people who've supported them and made a difference.
As far as how to address groups and create this more appreciative way of being with one another?
Mark believes this starts with the individual. If we can each learn these skills, and this way of facing our challenges and interacting with one another, we can find much more appreciation for everything. For noticing and celebrating what is going right. Or if we feel exceptionally triggered, pausing to ask what we can learn from the situation and how can we be grateful for the lesson. How is this going to make me stronger? How can I take the negativity and show up in a different way? If it's something another person is doing that we don't like – can we be thankful for this gift of clarity about the example of what not to do or be as we continue to choose who we DO want to be through our words and actions?
Mark, thank you for sharing this gift of gratitude with us and the many lives you impact!
–
Mark Popovic: Mark is a retired professional hockey player, professional speaker, and mentor for parents and competitive athletes. Mark's elite hockey experience includes the National Hockey League, KHL, AHL, and Ontario Hockey League (OHL). Mark is part of Hockey Canada's Program of Excellence at the international level, selected to play for Team Canada on six occasions. Mark Popovic built the Popovic Hockey Academy in 2005, running summer camps and off-season hockey training. Since 2018, Mark worked with the Humboldt Broncos, providing support for the players as they move forward after the April 2018 tragedy. Off the ice, Mark has developed and facilitated innovative and informative seminars for coaches, parents, and athletes to transfer his knowledge and experience to the next generation of game-changers.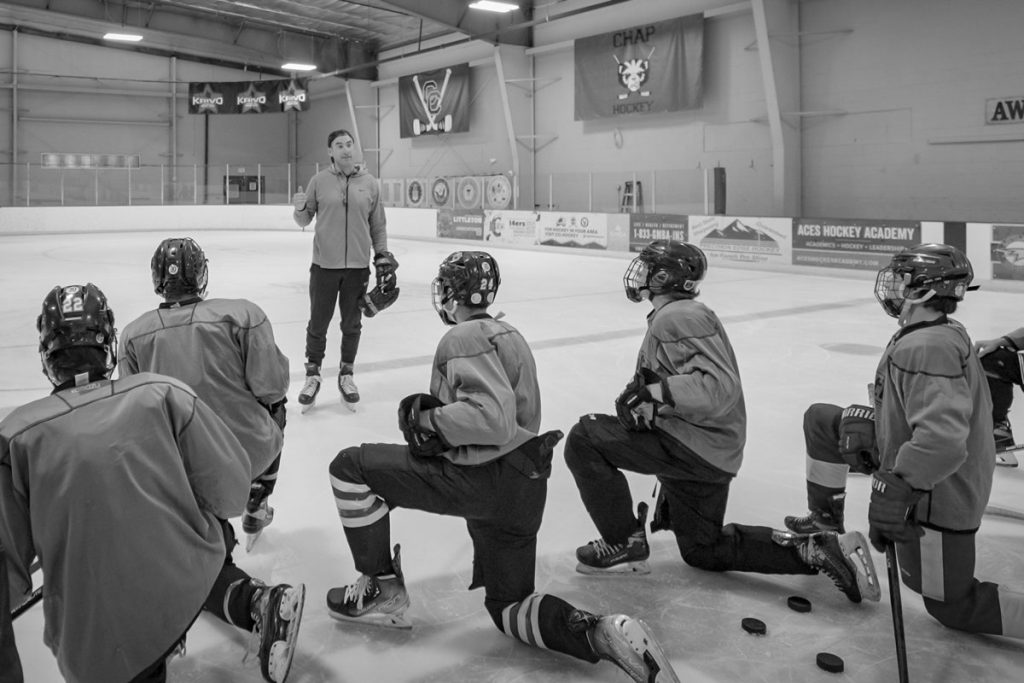 What are you grateful for today?
Take a couple minutes out of your day to create/reinforce the habit of gratitude. Even and especially if it's a hard day. Where can you notice something beautiful or meaningful? Who can you thank? What might be a lesson or blessing in disguise? Take a deep breath. Become present and choose gratitude. ♥